Hammer rentals & Sales
Whether you are new to hammered dulcimer or have several years under your strings you've probably heard the advice to try as many hammers as possible to find your favorites. That's great if you have a local club or the ability to get to festivals - but what about the rest of us? We're left holding our breath and placing an online order hoping we get hammers that we like! Well, that changes NOW...if you don't want to wait for (and drive to!) the next festival, let the hammers come to you!
HOW DOES IT WORK?
Order your rental bundle below for $30 .
A box of hammers (5 pairs) from 4 brands will arrive a few days later and you get to try them all on YOUR instrument in YOUR home at YOUR pace.
Keep the box it's shipped in. Review the info sheet included for prices. Keep as much or as little of the bundle as you want.
Within 3 weeks, pack up all the items you do not wish to purchase. Mail it back. You will be billed for any items not returned after 3 weeks.
Sound like fun!?  Place your order now by email or keep scrolling for additional details.

Happy Hammering,
~ Sarah Haag
Rent Now for $30
Click here to email me or use the contact form below to start your rental order. You may request certain hammers from the list below (subject to availability) or I will send you a standard variety.
IMPORTANT: You will not be sent an invoice until I'm able to mail your bundle. We are on tour frequently and I will communicate a shipping estimate based on when I'm home.
*For now I'm only shipping within the U.S. - my apologies to international players.
Meet the Hammers
These four makers were chosen because they are well-established and able to handle incoming orders in a quick, reliable manner. Many others are reputable and perhaps this selection will expand over time.
ALL of these hammer makers are first class and make excellent products. I have my favorites but it's all about feel and sound and that's all personal preference - so get ready to play!
 
Dusty Strings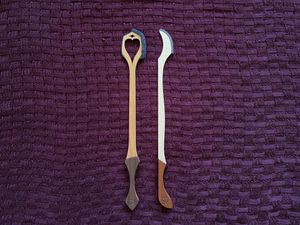 Dusty Strings offers several designs. Currently I carry - on the left: #8 (double padded small), right: #2 (single-sided leather)
Highlights:
These are some of the bundle's longest hammers (from where you grip to where the head strikes the strings).
The #8 padded felt side produces a very soft sound, great for quiet practice.
The #2 hammers are the only set of single-sided hammers in the bundle (all other hammers in the bundle can be flipped to play on either side of the head).
Prices: #8 (double padded small) - $62, #2 (single-sided leather) - $40
Jill Weimer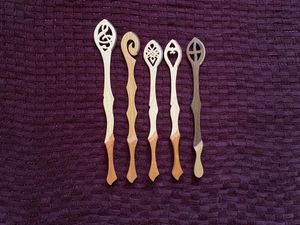 In your rental bundle you might find (from left to right) the Treble Clef, Swirl, Celtic Knot, Heart, or Cross (or other designs based on inventory)
Highlights:
The handles are less polished and more natural feeling - this offers a different grip which may slip less if you have sweaty hands.
Treble Clef has the largest head in the bundles - if you have this design in your bundle pay attention to how it changes the weight distribution.
The Swirl is longer in length but very lightweight.
While some of the other makers have set designs to choose from, Jill is flexible and offers customization if you don't find what you need in my selection.
Prices: $40 any design
Bob Bedard (by Ron Jordan)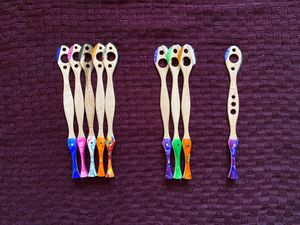 These hammers made by Ron Jordan are based on designs passed down to him from Bob Bedard.
Designs (from left to right) include Ashbrook, Practice Play, and Zephyr (I no longer have the Zephyr).
Highlights:
These have a playing surface and handles that are acrylic and come in a variety of colors (feel free to request your favorite, I'll do what I can based on availability).
The Practice Play hammers have a thick felt great for quiet playing or the acrylic edge that cuts through.
Ashbrook models are double sided with acrylic or ebony and a leather playing surface.
Prices: $43 - Ashbrook Acrylic, $38 - Ashbrook Ebony Edge, $48 - Practice Play
Master Works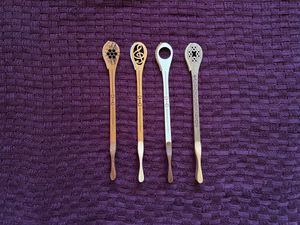 Inventory includes their "regular without pick" designs with or without inlays.
Highlights:
The handles on Master Works hammers have a shallow curve compared to some other brands - see what feels good to your fingers.
These come in a variety of inlay designs and depends on my inventory.
Prices: $50-$59
Ed Hale (by Master Works)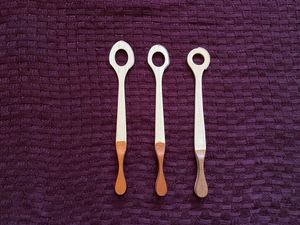 With permission from Ed Hale (who no longer makes these), Master Works now offers his cherished hammer designs.
From left to right: Large head, Medium head, and Small head designs.
Highlights:
Smooth balanced handles and weights (like other Master Works hammers the weight is marked in grams).
Same design, different head sizes - this is great if you love the hammer but need a bigger or smaller head.
Prices: $39 any size
Hammer Box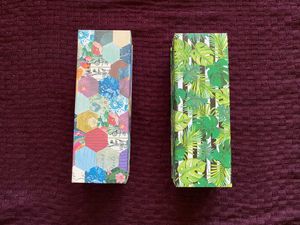 Big enough to old well over 5 pairs, these boxes open/close magnetically and provide stylish protection while shipping and at home. These are provided for each rental bundle and may be purchased for $5. Choose your design or be surprised.
 
PRICE LIST
My prices are based on the makers' retail pricing. When you purchase hammers from a rental bundle, you will receive a $10 credit from your $30 rental fee. Items you keep will be billed via PayPal invoice.
Dusty Strings #2 single sided leather - $40
Dusty Strings #8 double padded small - $62
Jill Weimer, any design - $40
Bob Bedard by Ron Jordan; Ashbrook Acrylic - $43
Bob Bedard by Ron Jordan; Ashbrook Ebony Edge - $38
Bob Bedard by Ron Jordan; Practice Play - $48
Master Works (Wave inlay) - $59
Master Works (Zebrawood, no inlay) - $50
Ed Hale by Master Works, any size - $39
Storage Box, either design - $5
FAQs
Who pays for the shipping?
Your rental fee includes shipping from me to you. You are responsible for return shipping.
Background: I attempted to cover both sides of shipping as part of the rental but since introducing sales it has complicated the process. To keep my fees low and offer you choices based on your local shipping options I decided to leave the return shipping costs to each customer. My recommendation is to try first class or priority shipping through USPS and provide me with a tracking number. My shipping costs usually run about $7-$10 for a bundle via USPS.
Can I buy items from the bundle?
YES! You pay $30 for the rental bundle. If you make a hammer purchase from it I will credit you $10 from your rental fee towards your purchase. Just return the rest and I'll bill you based on what you keep.
Do I have to rent a bundle in order to make a purchase?
No, if you know what you'd like to buy we can process the order as a sale without the rental.
May I customize the hammer selection in my bundle?
Yes, you may ask for certain ones to be included or avoided. If my inventory doesn't allow for that I'll let you know.
My normal process is to build bundles that include at least 1 pair from each of the 4 hammer makers referenced above so that you experience a variety of hammer sizes, types, and weights.
How long is the rental time frame? What happens if I don't return it in time?
For $30 you have 3 weeks from when I ship the bundle until when I need to take receipt of it again (this allows for a full week of trial with a week of shipping on either side).
When your bundle is shipped, I will let you know when your 3-week rental ends. Usually this is provided in a paper insert with the bundle.
Unless you contact me AT LEAST 48 hours before your rental ends you will be billed for all items not returned. If you have reason to believe your return may be late it is your responsibility to contact me. Generally speaking, items not returned within 3 weeks will be considered a final purchase.
Consider the timing of your order: do not place an order before a vacation for example. Make sure you'll be home and have time to use your rental.
Do I have to use PayPal or a Credit Card to rent a bundle?
No, if you'd like to rent a bundle and use another form of payment please contact me using the form below.
What happens if the hammers are damaged?
If you receive a damaged product please take a photo and email me immediately so that I can follow up with the post office (I'll take the same approach if they're damaged in the return shipping process).
If hammers are damaged while in your possession it will be treated the same as a purchase.
How can I see the status of my order?
I will email you a PayPal invoice when your bundle is ready to be shipped. Sometimes this may take a few days if I'm away from home.
I update PayPal with the tracking number when I ship it - when this happens you receive an email update. You may then use the tracking number to determine the estimated delivery.
I try to ship all orders within 24 hours of payment. If there's a significant delay I will notify you by email.
For any other questions or to begin an order, please contact Sarah using the form below.