Bio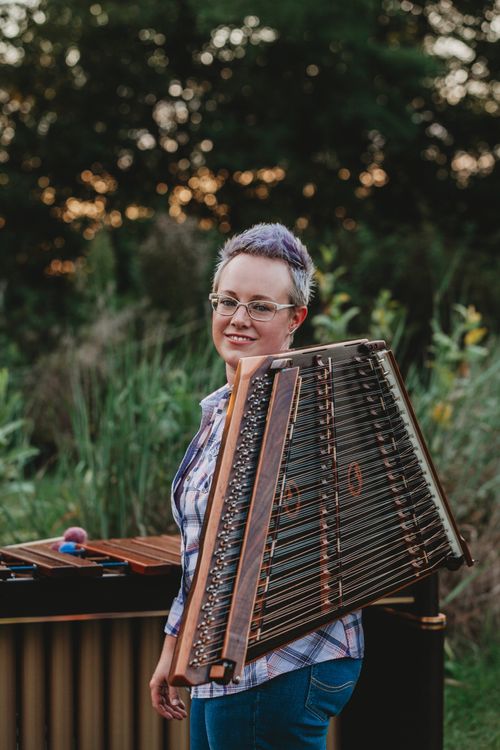 Rhythmwood Drive
inspired percussion
Doug and Sarah Haag studied percussion in college. Neither initially pursued a career performing but recently went through a musical rebirth when Sarah started playing marimba again in 2016, 12 years after leaving it at college. Just one year later they added hammered dulcimer to their line up and now offer a range of cover tunes, modern classical works, movie themes, and even some hymns. Doug is a master on cajon and percussion and Sarah is a 2018 Hit Like A Girl Contest Winner and a top 5 finalist in the 2018 National Hammer Dulcimer Championship. During 2019 the duo teamed up with hammered dulcimer virtuoso Ted Yoder and now record and tour with his band.

Doug endorses Natural Acoustic Lab (professional shakers)
Sarah endorses Malletech (marimba & mallets)
Background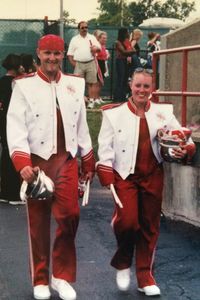 Percussionists at neighboring schools, Doug and Sarah met at a music competition. They both attended Ball State University with majors in music education & performance. While both went through the same program and played many of the same instruments and works, Doug had a love for drum set and hand drums while Sarah gravitated towards keyboard instruments such as marimba. One shared passion was snare drum in marching band.

In 2004 Sarah graduated and no longer had access to marimba - that part of her music was left in the past and essentially forgotten. After getting married they spent the next decade focused on corporate careers. Music only stayed alive through their involvement on drums and bass guitar in church worship teams. In 2013 they welcomed a son, and Sarah made the leap to be a stay at home mom right before Christmas 2014.
AN EPIC YEAR AND A NEW START
In January 2016 Sarah's dad noticed a local ad in the paper about an estate sale that included a marimba. After much discussion and prayer, the family attended the auction and came home with the marimba - a part of Sarah's past had just been given a second life!

2016 overflowed with events and people that inspired them to take music to the next level even with a family and career. The marimba came from a fiesty go-gettter named Judy who started playing when she was about 60 years old! Ironically she was inspired to play after hearing a cousin of the hammered dulcimer (a cimbalom) but ended up with a marimba taking lessons from Jeff Nearpass - the same teacher both Doug and Sarah had back in their high school years! Judy and Sarah visited Jeff soon after in a gathering that was nearly thirty years in the making!
Mid 2016 was full of challenges including a near-tragic accident in the family and Doug going through a long illness. They were just picking up the sticks and mallets again when they saw (along with millions of other people) a video that went viral on Facebook of a hammered dulcimer player from Goshen Indiana named Ted Yoder. Just like Judy was inspired long ago by a cousin of the hammered dulcimer, Sarah was newly inspired by not only the instrument but the independent artist and family behind it. She went to Ted's first concert following his viral video and met him and his wife Donna. Little did they all know it was the start to a once-in-a-lifetime friendship and musical adventure!
HAMMERED DULCIMER
At first, Rhythmwood Drive was just marimba + percussion. That changed suddenly in late July 2017 when a family member told Sarah she had a Master Works hammered dulcimer sitting in her closet and offered to let her borrow and play it. Already being friends with a former national champion, Sarah went all-in with hammered dulcimer and bought her own, then competed in the 2018 National Hammer Dulcimer Championship during the Walnut Valley Festival. After barely a year of playing she placed in the top 5. Sarah leaves the dulcimer playing to Ted during their joint shows, but she draws a crowd on her own and now offers players the ability to rent and buy hammers online through a mail-order program.